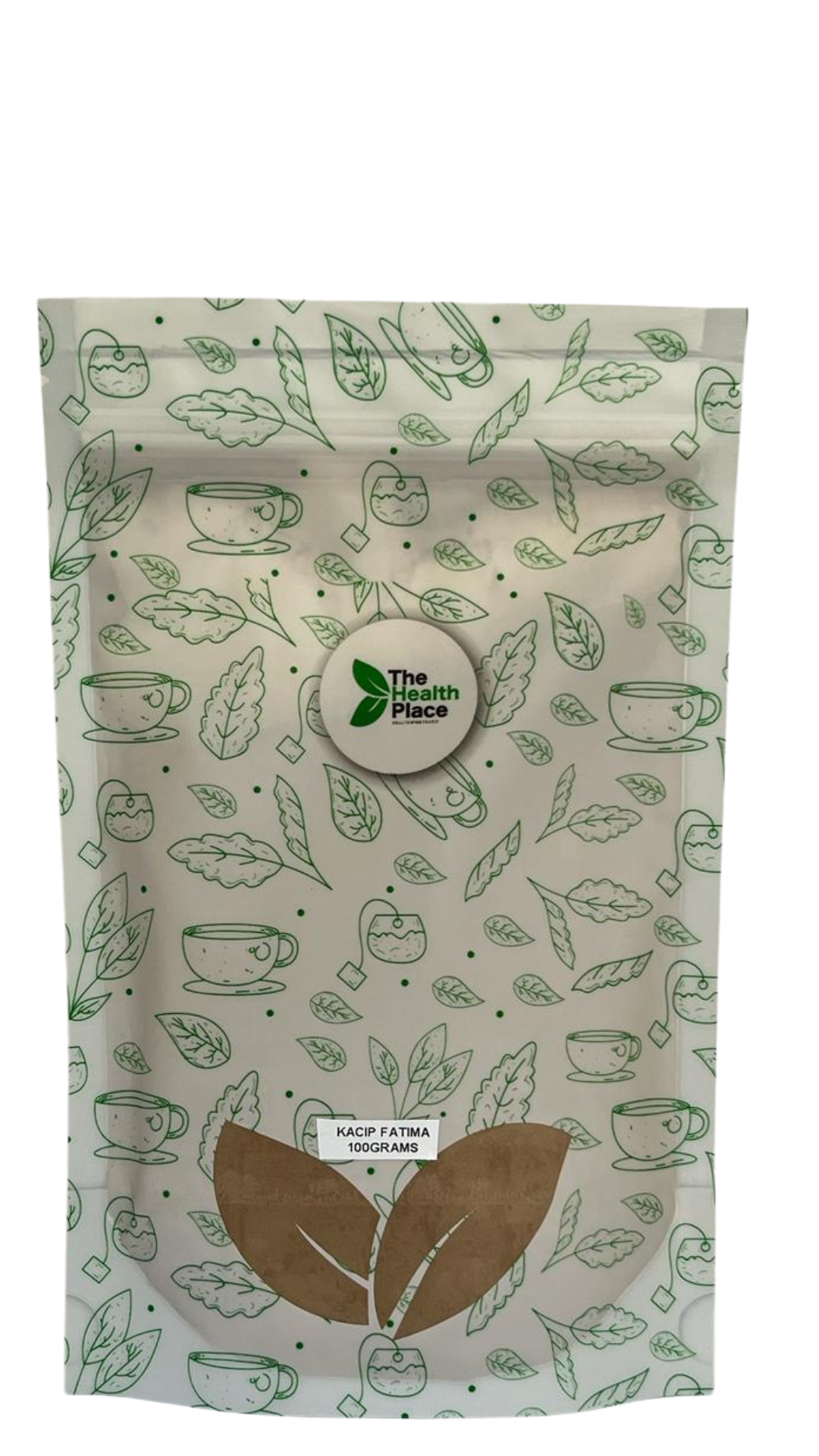 Kacip Fatima - Choose Form
Sale price
₦11,500.00
Regular price
(/)
---
Scientific Name: Labisia pumila
Origin:Malaysia 
Please scroll down and choose form
The Labisia pumila (LP) is a traditional plant that is locally known as Kacip Fatimah, Selusuh Fatimah, or Pokok Ringgang by the Malaysian indigenous people. It is believed to facilitate their childbirth, treating their postchild birth and menstrual irregularities
Mention the word "tongkat  Ali" or "kacip Fatimah" to a Malaysian and you are more likely than not, to elicit a knowing smile or two. This is because these two herbs belong to their herbal lore pertaining to the marital bedroom.
The names of these two herbs are, in the first place, suggestive enough to cue you in  – "Tongkat Ali" means the "walking stick or cane of Ali" and "kacip Fatimah"means "Fatimah's nut-cracker".  
Both herbs are said to enhance the health and libidos of the male and female, respectively
Modern pharmacologists have done experimental investigation on the properties of LP which they possess antioxidant, antimicrobial, anticancer, and anti-inflammatory, and LP can exert phytoestrogenic effects. However, it is important to understand the compound in LP that contributes to the health benefits on reproductive performance in women.

Uses in Traditional Medicine
Paste prepared from the leaves and coconut oil is rubbed on baby's abdomen to relieve stomach discomfort. Kacip Fatimah has been traditionally used by the Malay women for many generations in childbirth in inducing and eases delivery, as a post partum medication to help the birth channel, to regain body strength, regulate menstrual cycle and avoid painful and to alleviate menopausal symptoms.
The plant is traditionally boiled and the water extraction is taken as a drink. Other traditional uses include treating dysentery, rheumatism, and gonnorhoea. This plant will also help to firm the abdominal muscles. Scientific studies found that the medicinal properties and biological activities of Kacip Fatimah are due to the presence of phyto-estrogen (plant estrogen) that is naturally found in this plant.
Antioxidant Properties
Numerous studies had reported the health benefits of LP on the prevention and treatment of diseases related to estrogen deficiencies. LP contains flavonoids, polyphenols, phenolic acids, and saponins. These phytochemicals protect against many chronic diseases and delaying aging process. On the other hand, phenolic compound is found in most plants, and this compound is known to possess potent antioxidant activity and has anticancer, antibacterial, and anti-inflammatory properties. Studies had shown that LP contains a significant amount of phenolic compound with the amount of value ranging from 2.53 to 2.55 mg/g throughout the different species of LP.


Menopause, Estrogen  Deficiency and its many issues. 
Estrogen deficiency has become a major problem among women. It is the cause of postmenopausal bone loss and contributes to the age-related bone loss. The lack of estrogen also results in vasomotor instability, fatigue, mood disturbance, sexual dysfunction,  reduction of bone mineralization leading to an increasing risk of bone fracture
The administration of LP can be an alternative to synthetic estrogen for hormone therapy to reduce side effects of prolonged hormone therapy such as risk of breast cancer, endometrial cancer, and cardiovascular diseases.
Anti Inflammatory 
Many experts suggest that anti-inflammatory diets may help in reducing the inflammation- like increase in adipose tissue and osteoporosis in postmenopausal women. The increase in risk of inflammation is due to the lack of estrogen hormone in women. Various epidemiological studies have shown the risk of developing osteoporosis in an inflammatory condition such as rheumatoid arthritis, haematological disease, and inflammatory bowel disease. LP has been proven to have anti-inflammatory properties from recent research.
Among the study of LP on postmenopausal women by Norhayati et al.  400 mg of LP was given to postmenopausal women ages 40–60 years. A women health questionnaire was used to assess the quality of life. Women with postmenopausal showed improvement in memory and concentration (8.3%), vasomotor symptoms (15.9%), menstrual symptoms (11.8%), and sleep problems (31.0%).
Fat Metabolism and Improvement in Cardiovascular Disease in Postmenopausal Women
Body weight is a common form of physiological changes in women experiencing estrogen deficiency, a significant gain in fat mass in postmenopausal women. The lack of estrogen hormone influences the amount of fat in the body which regulates the glucose and lipid metabolism. Research suggests that women approaching menopause tend to become overweight and LP can help in this regard. 
This is also true for PCOS sufferers who have reported weight gain. Adipose tissue which significantly increases due to the lack of estrogen is an endocrine organ that regulates the signaling molecules such as adipokines that promote the growth factors, cytokines, and complement factors. The dysregulation of this hormone has led to the increase in visceral fats. The visceral fats play an important role in pathogenesis of insulin resistance, hypertension disorder of coagulation, and metabolic syndrome which can be seen in PCOS and postmenopausal women.
Polycystic Ovary Syndrome (PCOS)
The polycystic ovary syndrome (PCOS) is a disease that affects women's hormonal levels. Women with PCOS produce higher amount of male hormones called androgen compared to normal women. This hormonal imbalance causes women with PCOS to skip their menstrual periods, and it is hard for them to get pregnant. One of the main side effects of PCOS is obesity. It has been linked to many metabolic and reproductive disorders including PCOS.
PCOS is a common endocrine disorder affecting to 10% of women in their reproductive age, and it is reported that the 40%–80% of PCOS sufferers experience obesity. 

The key characteristic to determine PCOS is the presence of two of the three symptoms of hyperandrogenism, chronic anovulation, and polycystic ovaries.
However, PCOS tends to present many metabolic disorders such as weight gain, hyperinsulinemia, insulin resistance, and abdominal adiposity which can be managed with LP.
The current treatment for PCOS is Metformin, which helps in insulin resistance by increasing the insulin sensitivity of PCOS. However, there are long-term effects to this treatment such as diarrhea and impaired renal function. Progestins were used to treat the hyperandrogenism. However, this drug promotes weight gain, fluid retention, and liver dysfunction.
Alternative treatment is seen to be an option to treat PCOS. Studies had shown that LP extract can improve the lipid profile of PCOS by reducing the total cholesterol and triglycerides levels. There are not many researches on LP extract on PCOS treatment currently. However, LP extract can be an alternative treatment for PCOS due to its low cost and safety. Further study is needed in the treatment of PCOS with LP extract.
Vaginal Health 
Estrogen is the female hormone that plays a role in maintaining vaginal muscle tone. After childbirth, estrogen levels drop significantly hence robbing the body of the estrogen that's needed to maintain muscle tone, particularly after multiple child births and this can lead to vaginal loosening. 
LP has been traditionally used by the Malay women for many generations in childbirth for inducing and eases delivery, as well as a post-partum medicine to help contract the birth canal.
Extensive research on LP is promising on its effect on toning and firming both abdominal and vaginal muscles afree birth.
This herb is a great natural aid for women when it comes to facilitating comfortable childbirth by naturally firming and toning their abdominal and vaginal muscles. After childbirth, the herb is used by mothers to regain strength and rejuvenate their body for faster healing. It was also used to help ease menstrual cycles.

In Borneo, LP is used for purposes of enhancing vitality, overcoming tiredness and toning vaginal muscles, help strengthen and tone abdominal muscles as well as uterine wall and tissue. The herb also promotes emotional well-being, reduces fatigue, and increases libido and energy."
 Natural Aphrodisiac
Due to its aphrodisiac effects, the herb can also be used as a remedy for sexual excitement in frigid women . LP helps balance hormones and eliminate postnatal depression, such as loss of interest in sex by promoting vitality and strength to improve intimacy. The herb is also anti-dysmenorrhea, meaning that it can help cleanse and avoid painful and difficult menstruation
Premium Quality
• Imported 100% raw from Malaysia ✓
• Carefully Packed and encapsulated in Nigeria ✓
• USDA Organic* ✓
• Non-GMO** ✓
• GMP Manufacturing ✓
All our products are 100% natural and processed in a FDA Registered Facility in Malaysia.
Statements regarding dietary supplements have not been evaluated by the FDA and are not intended to diagnose, treat, cure, or prevent any disease or health condition.

We would love to hear from you

Do you have a question? A complaint?

Are we doing something really well? Or could we be doing something better? 

Contact us below and someone will get right back to you.

 
Kacip Fatima - Choose Form
Sale price
₦11,500.00
Regular price
Choose options