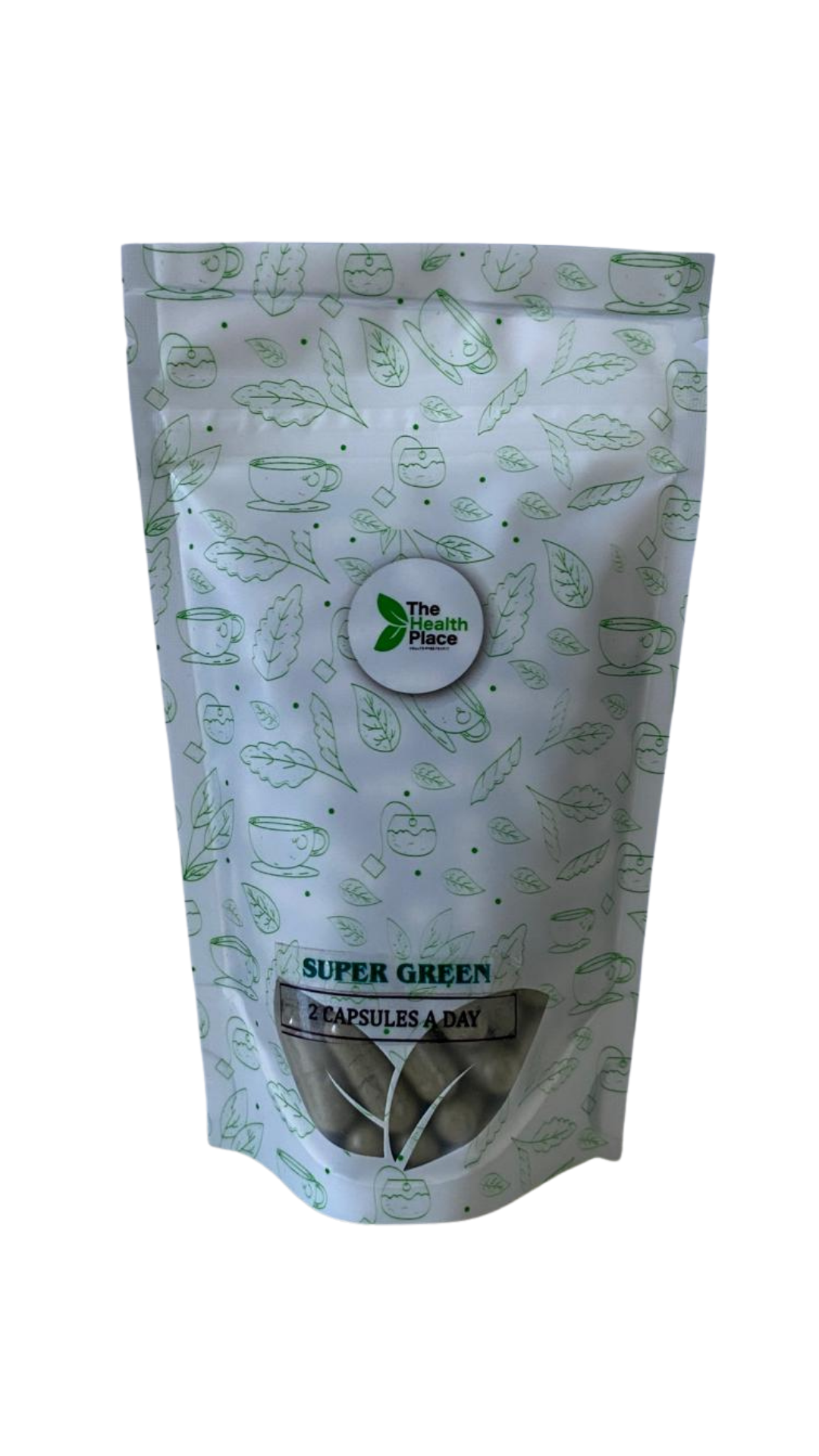 Supergreen Super Green Mix Organic- Choose Form
Sale price
₦7,500.00
Regular price
(/)
---
Scientific Name: Mix of Greens
Origin: USA 
Scroll down and choose capsule or powder
Why buy 10 separate supergreens when you can buy one?

⚫️Here's introducing our Supergreens Mix; a mix of selected "must have" supergreens
.
🔴Our Organic Super Green Mix is a blend of potent,plant foods packed with nutrients that encourage optimum health; it is a complete green supplement
.
🔴Ingredients
.
⚫️Barley Grass-  anti-cancer; liver support
.
🔴Organic Wheat Grass Powder- increases blood cells; heavy metal
.
⚫️Spirulina-protects internal flora; regulates blood sugar; high protein
.
🔴Spinach - high folate; lowers cholesterol; healthy vision and brain
.
⚫️Broccoli- healthy bones; healthy heart; hormone regulator
.
🔴Alfalfa Leaf- strengthens kidney; blood purifier; hair growth
.
⚫️Beet Root- lowers blood pressure; blood forming
.
🔴Tomato-cancer prevention; prevents urinary Tract infections
.
⚫️Dulse- oxygenated the skin;regenerates thin skin tissues; improves skin texture and tones the skin
.
🔴Bladderwrack- thyroid and hormonal balance; improves vision; prevents cataracts
.
Our Super Green Mix fills nutrient gaps, promotes gut health, and supports whole-body vitality. 
One daily serving  contains vitamins, minerals, and whole-food-sourced nutrients in one convenient daily serving. 
All you need is one teaspon and 8 ounces of water to take care of your health, it's really that simple!

⚫️How to use
Mix 1 tablespoon of powder with your juice or add to your favorite smoothie; yogurt or water to make a potent green drink
Premium Quality
• Imported 100% raw from the USA ✓
• Carefully Packed in Nigeria ✓
• USDA Organic* ✓
• Non-GMO** ✓
• GMP Manufacturing ✓
All our products are 100% natural and processed in a FDA Registered Facility in the USA. 
Statements regarding dietary supplements have not been evaluated by the FDA and are not intended to diagnose, treat, cure, or prevent any disease or health condition.
Contains Premium Ingredients for optimum wellness: Ingredients Barley Grass, Wheat Grass, Spirulina, Spinach, Broccoli,Alfalfa Leaf, Beet Root, Tomato,Dulse, Bladderwrack.

We would love to hear from you

Do you have a question? A complaint?

Are we doing something really well? Or could we be doing something better? 

Contact us below and someone will get right back to you.

 
Supergreen Super Green Mix Organic- Choose Form
Sale price
₦7,500.00
Regular price
Choose options