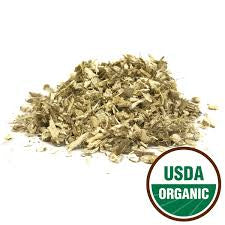 Marshmallow Root Organic - Choose Form
Sale price
₦5,000.00
Regular price
(/)
---
Botanical name: Althaea officinalis.
Origin: USA
Scroll down then choose capsule or powder
Gastric Reflux GERD
When gastric reflux occurs, acid from the stomach flows back up into the throat, which can cause damage to the esophagus.
The demulcent effect of marshmallow root coats the esophagus and throat and can protect it from the stomach acid from causing discomfort and "burning," while also providing anti-inflammatory effects. It's often used with slippery elm powder .  
Relieve Dry coughs
Some natural and herbal cough syrups and cough drops contain marshmallow root.
The mucilage effect of marshmallow root has a soothing effect on the esophagus by coating it.
Taking marshmallow root or adding to herbal cough remedies has this effect and helps to treat dry cough. 
Cervical Mucus and Vaginal Dryness 
Marshmallow root is also superb for women's reproductive health, including vaginal dryness. Its soothing and moistening quality add another dimension of support to soothe mucus membranes for proper function of cervical mucus production.
Protects against ulcers 
The mucilage and flavonoids in the marshmallow plant covers and protects the mucous lining of the stomach, which reduce the risk of certain ulcers, including NSAID-associated as gastric ulcer.
 Gastritis 
Marshmallow is used for mild inflammation of the gastric mucosa. Especially when used with other demulcent herbs, such as slippery elm and bladderwrack. Mucilage might be advantageous for people with gastritis because its slippery nature soothes irritated mucus membranes of the digestive tract. 
Helps Repair the Gut Lining, Preventing Leaky Gut Syndrome
Research suggests that marshmallow is an effective way to help treat certain digestive disorders, including leaky gut syndrome, which develops when particles leak outside tiny openings in the gut lining, allowing them to enter the bloodstream where they can trigger autoimmune reactions.
Marshmallow helps to restore the integrity of the gut lining  by forming a protective layer around small junctions. In addition, it seems to be beneficial for other forms of inflammatory bowel diseases, including ulcerative colitis and Crohn's disease.
Lowers Inflammation and Supports Heart Health
A 2011 study examined the effects of marshmallow root supplementation on blood lipid profiles and liver function over a one-month period. Researchers found that marshmallow has anti-inflammatory effects that works against both acute and chronic inflammation.
Marshmallow also showed anti-ulcer activity, anti-lipidemic abilities and resulted in an increase in HDL cholesterol (the "good" cholesterol)

Premium Quality
• Imported 100% raw from the USA ✓
• Carefully Packed in Nigeria ✓
• USDA Organic* ✓
• Non-GMO** ✓
• GMP Manufacturing ✓
All our products are 100% natural and processed in a FDA Registered Facility in the USA.
Statements regarding dietary supplements have not been evaluated by the FDA and are not intended to diagnose, treat, cure, or prevent any disease or health condition.

We would love to hear from you

Do you have a question? A complaint?

Are we doing something really well? Or could we be doing something better? 

Contact us below and someone will get right back to you.

 
Marshmallow Root Organic - Choose Form
Sale price
₦5,000.00
Regular price
Choose options