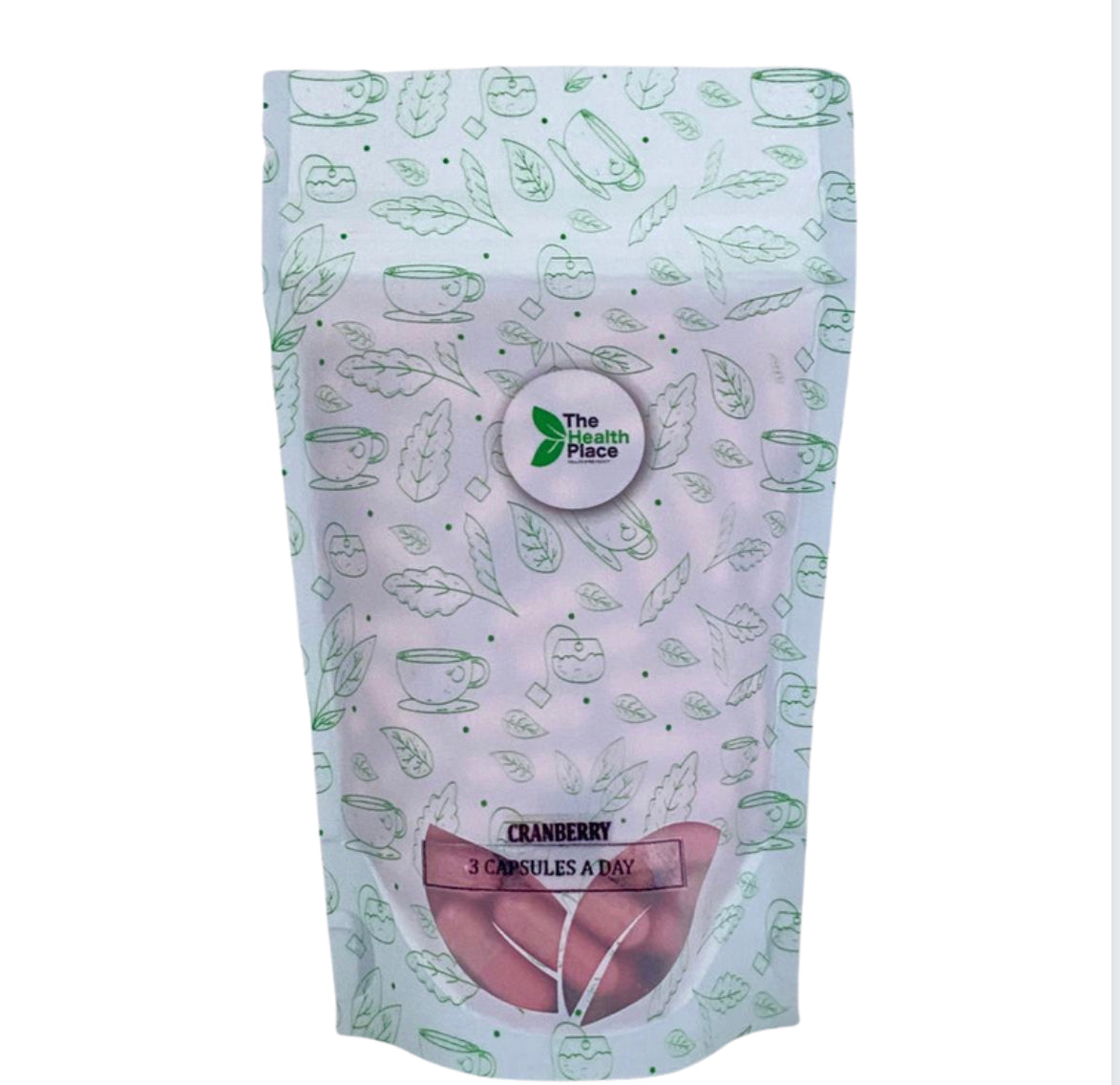 Cranberry Organic Freeze-Dried Choose Form
Sale price
₦6,500.00
Regular price
(/)
---
Scientific Name: Vaccinium macrocarpon
Origin: USA
Scroll down and choose capsule or powder
Historically, cranberry fruits and leaves were used to support a healthy prostate, beneficial intestinal flora, blood sugar levels, liver, and kidney function.
Urinary Tract Infection
More recently, cranberry has been used as a traditional folk remedy to support a healthy urinary tract.
Bladder Infections and Incontinence 
Cram berry reduces the Risk Of "Bladder Infections" (Urinary Tract Infections). It Has Also Been Used For Decreasing The Smell Of Urine In People Who Are Unable To Control Urination (Incontinent).
Prostate Cancer
Several studies have shown that daily consumption of powdered cranberry fruit lowers serum PSA in patients with prostate cancer  significantly as much as 22.5%. There was also marker improvement in urination parameters: rate of urine flow, average flow, total volume and postvoid residual urine after 6 months of use. Cranberry whole fruit contains constituents that regulates the expression of androgen-responsive genes with no side effects.
Cranberry has also been linked to supporting a healthy viral and bacterial response. 
BENEFITS
May support memory & mental acuity
May help to support healthy kidney function
Supporting healthy blood pressure levels
May support healthy intestinal flora growth
A source of antioxidants
May help support a healthy prostate
Possibly having diuretic properties
May support healthy bowels
May support a healthy inflammation response
May support the body's ability to protect against infection
A source of Resveratrol
May help support a healthy bladder
May help to support the healing of ulcers in the gastrointestinal tract
May support healthy circulation
Containing compounds that studies have shown may possess anti-asthmatic properties
May help to support healthy teeth & gums
Combating urinary tract infection
May support digestive health
Constituents of Cranberries include:
Minerals:

Calcium, Iron, Magnesium, Phosphorus, Potassium, Zinc, Copper, Manganese, Selenium

Vitamins:

Vitamin C, Thiamin, Riboflavin, Niacin, Pantothenic Acid, Vitamin B-6, Folate, Choline, Betaine, Vitamin A (RAE), Beta carotene, Vitamin A (IU), Lutein & Zeaxanthin, Vitamin E, Gamma Tocopherol, Vitamin K

Amino Acids:

Tryptophan, Threonine, Isoleucine, Leucine,. Lysine, Methionine, Cystine, Phenylalanine, Tyrosine, Valine, Arginine, Histidine, Alanine, Aspartic Acid, Glutamic Acid, Proline, Serine

Anthocyanidins:

Petunidin, Delphinidin, Malvidin, Peonidin, Cyanidin

Flavan-3-ols:

Catechin, Epigallocatechin, Epicatechin, Gallocatechin

Flavonols:

Kaempferol, Myricetin, Quercetin

Proanthocyanidins:

Proanthocyanidin Monomers, Proanthocyanidin Dimers, Proanthocyanidin Trimers, Proanthocyanidin 4-6mers, Proanthocyanidin 7-10mers, Proanthocyanidin (>10mers)
Feel free to browse our collection of other superfood freeze-dried powders.
Suggested Use: Mix 1 tablespoon with juice, yogurt, or add to your favorite smoothie.
Premium Quality
• Imported 100% raw from the USA ✓
• Carefully Packed in Nigeria ✓
• USDA Organic* ✓
• Non-GMO** ✓
• GMP Manufacturing ✓
All our products are 100% natural and processed in a FDA Registered Facility in the USA. 
Statements regarding dietary supplements have not been evaluated by the FDA and are not intended to diagnose, treat, cure, or prevent any disease or health condition.

We would love to hear from you

Do you have a question? A complaint?

Are we doing something really well? Or could we be doing something better? 

Contact us below and someone will get right back to you.

 
Cranberry Organic Freeze-Dried Choose Form
Sale price
₦6,500.00
Regular price
Choose options