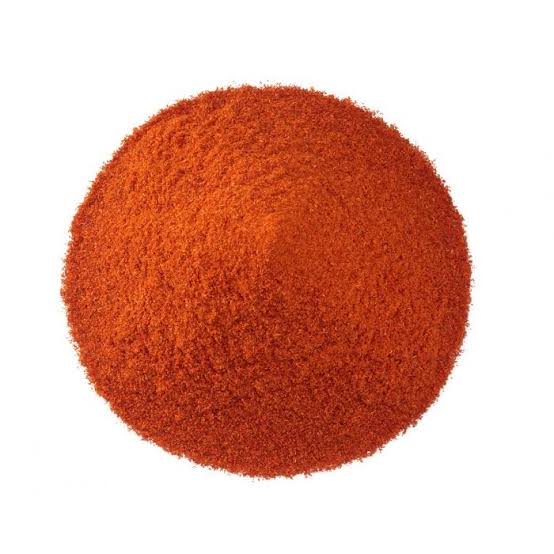 Cayenne Pepper- Choose Form
Sale price
₦1,800.00
Regular price
(/)
---
 Scientific Name: Capsicum annuum L. var. annuum
Chili is the Aztec name for Capsicum annuum. It has been used as a food by Native Americans for over 9000 years. The Capsicum family includes bell peppers, red peppers, paprika, and pimento, but the most famous spicy members of the family are cayenne and chile. The tasty hot peppers have long been used in many of the world's cuisines, but their greatest use in health comes from, surprisingly, conventional medicine.
Our cayenne powder is typically between 90,000 HU and considered very hot. The pungency of a chili pepper has historically been measured using the Scoville scale, which assigns heat units (SHU or HU) using a subjective assessment to determine the concentration of capsaicin in a pepper.
Capsaicin is an active component of chili peppers, responsible for the warming and occasional burning sensations felt.
The Capsaicin In Cayenne Peppers Has Metabolism-Boosting Properties, Increases Body Circulation, That Helps Relieve Pain And May Lower Blood Pressure
TYPICAL PREPARATIONS
Widely used in cooking. Most often compounded as a cream for external use, rarely brewed into a tea for internal use.
PRECAUTIONS
Excessive use may cause gastrointestinal irritation. Not to be exposed to broken skin or eyes. 
We recommend that you consult with a qualified healthcare practitioner before using herbal products, particularly if you are pregnant, nursing, or on any medications.
Premium Quality
• Imported 100% raw from the USA ✓
• Carefully Packed in Nigeria ✓
• USDA Organic* ✓
• Non-GMO** ✓
• GMP Manufacturing ✓
All our products are 100% natural and processed in a FDA Registered Facility in the USA. 
Statements regarding dietary supplements have not been evaluated by the FDA and are not intended to diagnose, treat, cure, or prevent any disease or health condition.

We would love to hear from you

Do you have a question? A complaint?

Are we doing something really well? Or could we be doing something better? 

Contact us below and someone will get right back to you.

 
Cayenne Pepper- Choose Form
Sale price
₦1,800.00
Regular price
Choose options