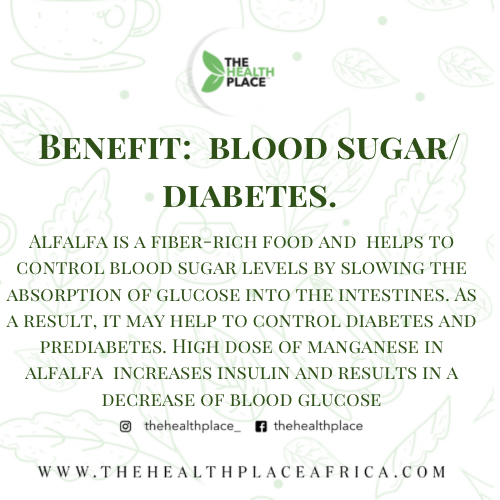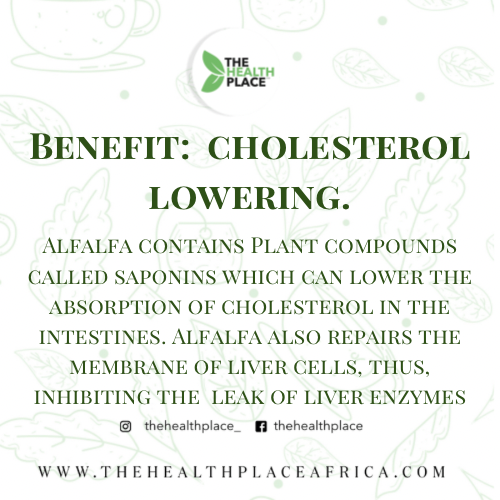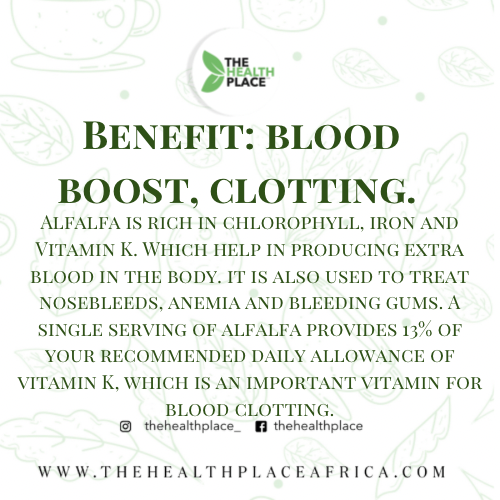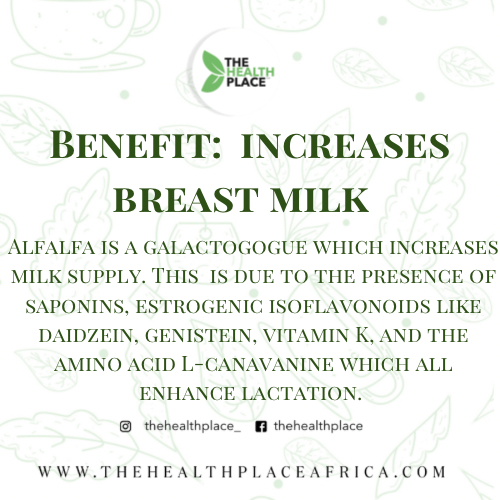 Alfalfa Leaf Organic Powder- 100 Grams
Sale price
₦4,500.00
Regular price
(/)
---
Botanical Name:
Medicago sativa
Origin:
USA

Encapsulating is NOT FREE , It's costs N1050 extra per item. To encapsulate - please add this item and encapsulating to the cart and drop a note to have it encapsulated. 

Teabagging is NOT FREE, It costs N1050 extra per item .To teabag- please add this item and teabagging  to the cart and drop a note to have it teabagged
Alfalfa has been used as a food in India, as a nutritive tonic in American folk practices, and for digestive support in Traditional Chinese Medicine (TCM).

Our organic alfalfa powder is a healthful addition to green smoothies, blended juices, and herbal powders.
Benefits
Appetite Stimulant
Alfalfa is used as an appetite stimulant, to promote weight gain. It is rich in amino acids, vitamins, minerals and essential nutrients which help restore physical as well as mental well-being. It also increases your bone density which helps in increasing the overall body weight.
Alfalfa is helps to improve the health of people who are suffering from malnutrition, nervous indigestion, and bulimia. It also takes care of the debility (physical weakness, especially as a result of illness.) caused by diseases like Tuberculosis, Typhoid, Irritable Bowel Syndrome (IBS), Malignancies and Diabetes mellitus which cause a state of 'wasting' or cachexia.
Reduces Uric acid
The leaves of the alfalfa plant are rich in minerals, essential amino acids and nutrients (phosphorous, calcium, magnesium, potassium, and carotene which may help actively promote kidney function) and other minerals. All these minerals are diuretic in nature and, therefore may help to remove fluid accumulations in muscle tissue and joints. It is also a good choice of treatment for gout-sufferers.

Anti-Arthritis
This study demonstrated that alfalfa leaf exerts anti-inflammatory activity and is useful as a functional food for the prevention of inflammatory disorders Such as osteoarthritis, rheumatoid arthritis. 

Increases Lactation
Alfalfa (Medicago sativa) leaves and sprouts contain saponins, estrogenic isoflavonoids (e.g., daidzein, genistein), vitamin K, and the amino acid L-canavanine. Alfalfa is a purported galactogogue and is included in some proprietary mixtures promoted to increase milk supply.
Alfalfa is used commonly to support breast milk, often in combination with fenugreek. It is one of the ingredients in our lactating mix.
Complete  Protein
Alfalfa is a complete protein source because it provides all the essential amino acids this highly beneficial for vegetarians and vegans

Abundant in vitamin and minerals
Contains vitamins A, C, E,K4; and eight digestive enzymes. Contains trace minerals and vitamin K; calcium, potassium, phosphorous, and iron.
In Summary
Alfalfa can be used to combat fatigue; prevent spikes in blood sugar; increase stamina; prevent anemia; arthritis; bursitis; rheumatic aches and pains; sluggish appetite; can used as a digestive aid; blood purifier; acidosis; menopause (balances hormones, nourishes ovaries); colds; builds resistance to infection.

Alfalfa is used for kidney conditions, bladder and prostate conditions, and to increase urine flow. It is also used for high cholesterol, asthma, osteoarthritis, rheumatoid arthritis, diabetes, upset stomach, and a bleeding disorder called thrombocytopenic purpura.



Premium Quality
• Imported 100% raw from the USA ✓
• Carefully Packed in Nigeria ✓
• USDA Organic* ✓
• Non-GMO** ✓
• GMP Manufacturing ✓
All our products are 100% natural and processed in a FDA Registered Facility in the USA. 
 Statements regarding dietary supplements have not been evaluated by the FDA and are not intended to diagnose, treat, cure, or prevent any disease or health condition.

We would love to hear from you

Do you have a question? A complaint?

Are we doing something really well? Or could we be doing something better? 

Contact us below and someone will get right back to you.

 
Alfalfa Leaf Organic Powder- 100 Grams
Sale price
₦4,500.00
Regular price
Choose options