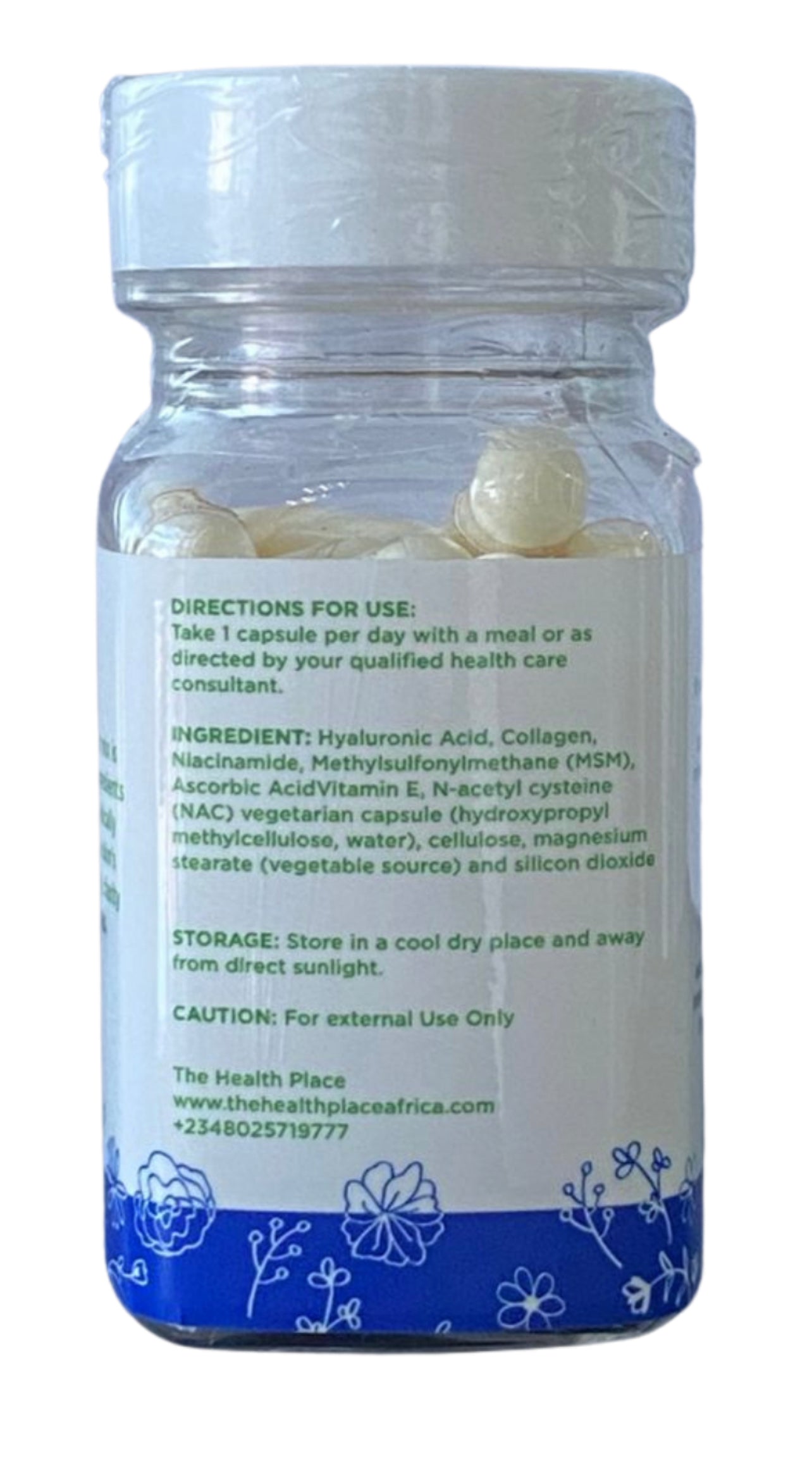 Skin Perfecter Capsules - 30 Capsules 500mg each
Sale price
₦7,500.00
Regular price
₦0.00
(/)
---
Formulated with a blend of Hyaluronic Acid, Collagen, Niacinamide, Methylsulfonylmethane (MSM), Ascorbic AcidVitamin E, N-acetyl cysteine (NAC).


Antioxidant vitamin C provides free radical cellular support.
Hyaluronic Acid increases the amount of moisture found in the skin and keeps it hydrated and glowing.
Collagen helps support healthy collagen synthesis and a reduction in the appearance of wrinkles and increases skin elasticity.
Niacinamide helps build cells in the skin while also protecting skin from environmental stresses, such as sunlight, pollution, and toxins. It also treats acne.
MSM helps to safely and effectively lighten hyperpigmentation and post acne scars.
Vitamin E is an antioxidant, making it effective at combating the effects of free radicals produced by the metabolism of food and toxins in the environment which makes it beneficial to the skin.
(N-Acetyl Cysteine) NAC is also effective in blocking the production of melanin in skin cells.
Potent and High Quality Vitamin C (As Ascorbic Acid) is important for maintaining healthy-looking skin. Your skin cells use this vitamin to protect from stress caused by pollution, smoking, and UV rays. Your skin also needs vitamin C to create collagen.

Our Skin Perfecter mix is formulated with ingredients that have been clinically tested to increase skin's moisture, elasticity, clarity and smoothness

GLUTEN-FREE + NON-GMO TESTED: This beauty formulation is Non-GMO , Gluten-Free, lactose-free and made with no artificial flavors.
Safety Information
If you have a medical condition, are pregnant, lactating, trying to conceive, or taking medications, consult your health care practitioner before using this product.
Legal Disclaimer
Statements regarding dietary supplements have not been evaluated by the FDA and are not intended to diagnose, treat, cure, or prevent any disease or health condition.

 



We would love to hear from you

Do you have a question? A complaint?

Are we doing something really well? Or could we be doing something better? 

Contact us below and someone will get right back to you.

 
Skin Perfecter Capsules - 30 Capsules 500mg each
Sale price
₦7,500.00
Regular price
₦0.00
Choose options