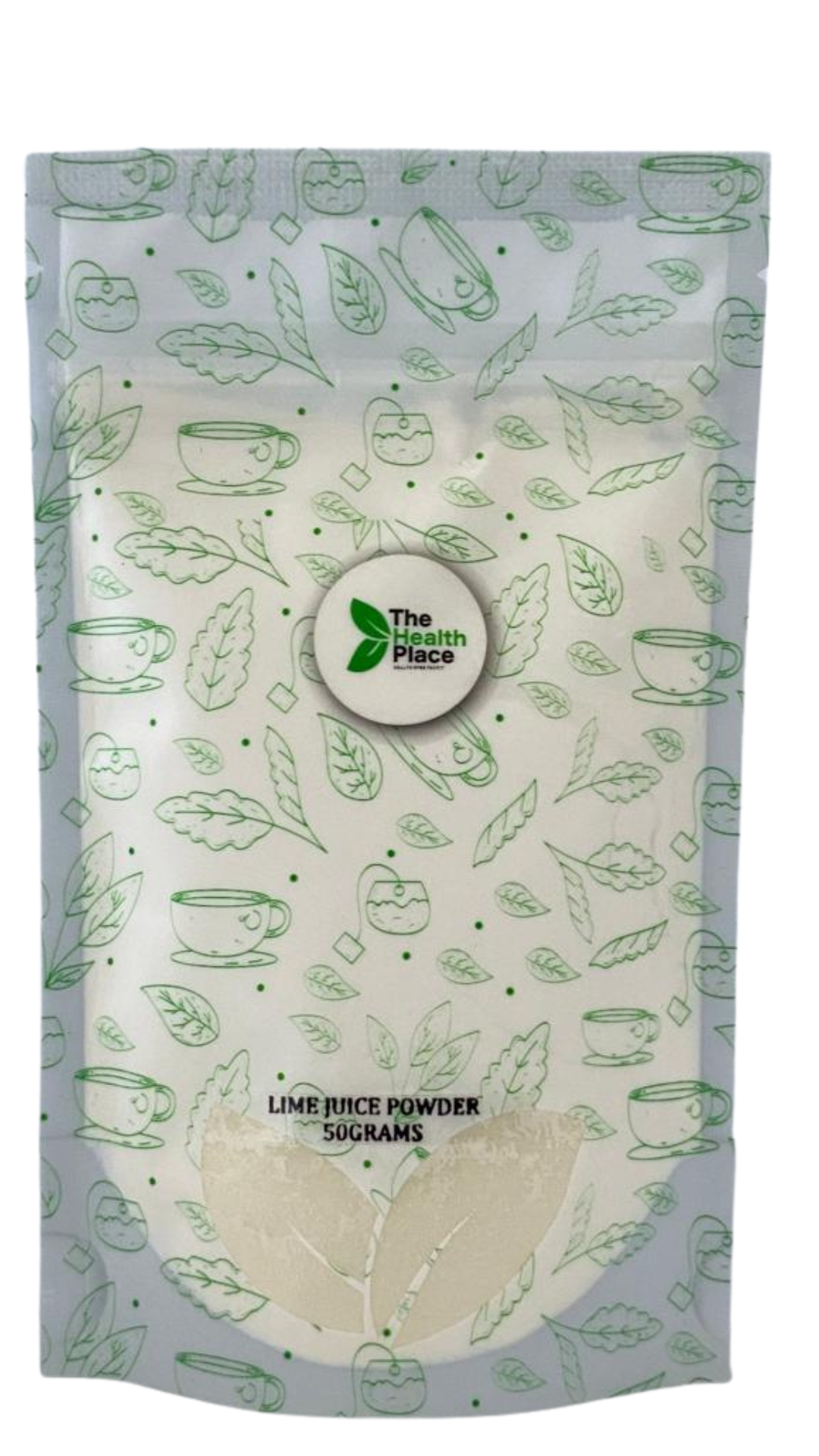 Lime Juice Powder Organic Freeze-Dried 50grams
Sale price
₦3,000.00
Regular price
(/)
---
Scientific Name:  Citrus aurantiifolia.
Origin: USA
Our food grade Organic Freeze-dried Lime is made from organic Lime Juice (no seeds, no skin, no rind).
Other names include Keylime, Persian lime, kaffir lime, and desert lime.
Constituents of Lime include:
Minerals

: Calcium, Iron, Magnesium, Phosphorus, Potassium, Sodium, Copper, Zinc, Manganese

Vitamins

: Vitamin C, B-complex (no b12), Vitamin A, Beta Carotene, Beta Cryptoxanthin, Lutein, Zeaxanthin

Flavonols

: Quercetin

Flavanones

: Eriodictyol, Hesperetin, Naringenin, polyphenols, and terpenes
Rich in vitamins and health benefits, our Organic Lime Juice Powder provides you with the sweet, acidic citrus of lime. 
Bringing joy to a variety of foods, limes are common in Mexican, Vietnamese, and Thai cuisine. 
Our Organic Lime Juice Powder is

 

delicious in salad dressings, meat marinades, tastes wonderful on chicken, fish, or pork, and delightful in drinks

 

of almost any kind.
Our lime juice packs a unique, tasty, and powerful punch!
Made from wonderfully aromatic lime rind with powerful essential oils that gives off the refreshing lime scent. 
Limes are well known for their sour taste and high vitamin C content which is known to support a healthy immune system response 
Our Organic Lime Juice Powder preserves all the nutrition, the natural color, and the intensity of the lime's flavor and delicious aroma. And not only do you get the best of the lime and all its juicy flavor, but you also get the benefit of a long-lasting, versatile product that stays fresh for up to 2 years.
The Best Organic Lime Juice Powder
Our lime Juice Powder is:
100% natural lime juice

100% total and pure lime juice with no added sweeteners

An amazing source of nutrition and rich in antioxidants

A highly useful powder that can be used in virtually any food or drink recipe

Safe for natural masks, facial scrubs, and more!
Lime Juice Powder is A Tasty and Nutritional Powerhouse
Lime Juice is an excellent source of antioxidants, potassium, vitamins A, B, C, and D, calcium and magnesium. For an absolutely wonderful, refreshing drink that may also aid digestion and boost metabolism, simply mix 2 tablespoons of our Organic Lime Juice Powder to a cold glass of water, sip, and enjoy!   
Health Benefits:
A nourishing source of vitamin c and other naturally occurring compounds

May support colon health due to it being a nourishing source of pectin

May support a healthy immune system response

May support a healthy inflammation response

May support healthy pH levels

May support healthy liver function

May support healthy gallbladder function

May support healthy digestion

May support healthy skin

May replenish electrolytes and body salts
A simple act of drinking a glass of water with lime every morning can help create a more healing environment for the body
Feel free to browse our collection of other superfood freeze-dried powders.

Suggested Use: Mix 1 to 2 tablespoons with recipes, juice, or add to your favorite smoothie.
Premium Quality
• Imported 100% raw from the USA ✓
• Carefully Packed in Nigeria ✓
• USDA Organic* ✓
• Non-GMO** ✓
• GMP Manufacturing ✓
All our products are 100% natural and processed in a FDA Registered Facility in the USA.
Statements regarding dietary supplements have not been evaluated by the FDA and are not intended to diagnose, treat, cure, or prevent any disease or health condition.

We would love to hear from you

Do you have a question? A complaint?

Are we doing something really well? Or could we be doing something better? 

Contact us below and someone will get right back to you.

 
Lime Juice Powder Organic Freeze-Dried 50grams
Sale price
₦3,000.00
Regular price
Choose options