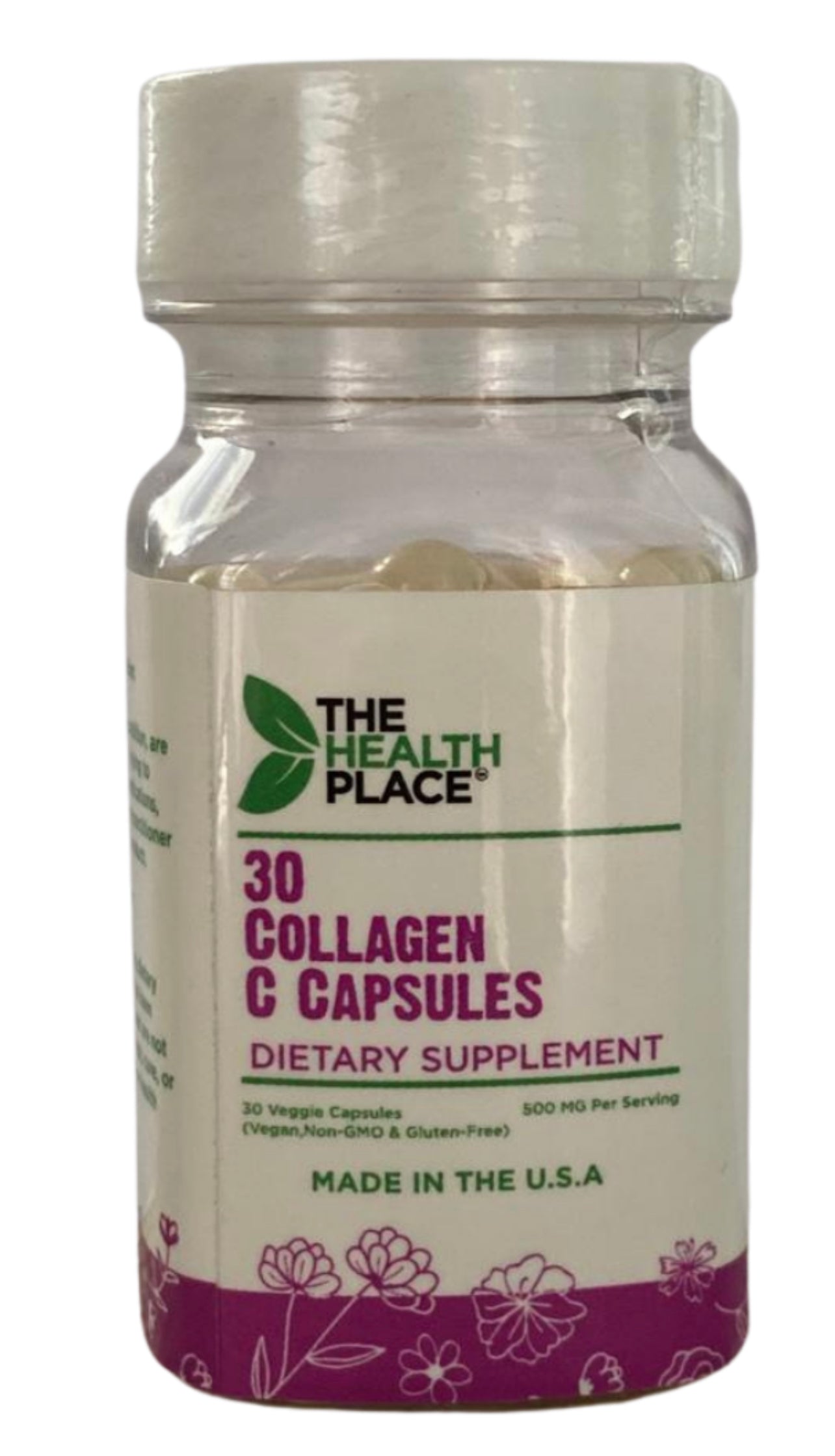 Collagen C - 30 Capsules 500mg each
Sale price
₦5,000.00
Regular price
(/)
---
Ingredients: Hydrolyzed Collagen and Ascorbic Acid.
Look and feel younger as you increase your overall health and beauty. With this mix of collagen and vitamin C you can help minimise the effects of ageing in your skin, hair and nails as you strengthen your bones and joints. Get your daily does of youth-promoting and anti-aging vitamins.

 Promote Health And Appearance:You'll look and feel like a better you as you improve your overall health and appearance. Decrease and prevent the appearance of wrinkles and fine lines. Promote healthy and strong hair and nails, that won't suffer from breakage. Collagen is the main protein in the body that makes up our skin, hair and nails. It can reduce the appearance of wrinkles and minimise the look of cellulite and stretch marks as it provides elasticity for skin. It also promotes luxurious hair and healthy nails by providing strength.
Collagen gives skin a smoother fuller appearance, reducing the look of lines and wrinkles. Over time the strength and structure of the collage in your skin weakens causing your skin to lose its elasticity. Maintain and improve the moisture and fullness of your skin with our advanced collagen dietary supplements.

Healthy Skin, Hair and Nails: Collagen is the main protein that gives our skin elasticity. A collagen boost can help improve hair strength, nail growth and give healthy looking skin.

Improve Joint Comfort: Improve your flexibility, mobility and reduce your risk of bone fractures. Collagen is a large component of connective tissue in the body which is found in tendons that connect our muscles to our bones.May reduce risk of bone fractures and improve mobility with a supplement that helps give bones and joints thier flexibility and boost strength.

FEATURES:
All Natural

Contains Collagen Type 1, 2, and 3
Sourced from grass-fed, pasture-raised cows
Non GMO
Our Collagen C is formulated with Collagen and Ascorbic Acid.

GLUTEN-FREE + NON-GMO TESTED: This beauty formulation is Non-GMO , Gluten-Free, lactose-free and made with no artificial flavours
Made without:  GMOs, milk, soy, eggs, yeast, wheat, rose hips, peanuts, tree nuts, fish, crustacean shellfish, animal products, fillers, binders, excipients, lubricants, starch, sweeteners, colourings, flavourings, and preservatives.Our promise and guarantee:  We use only 100% pure pharmaceutical grade L-ascorbic acid USP-FCC† (C6H8O6), which contains no corn residue, plant antigens, or protein impurities.†from the United States
Safety Information
If you have a medical condition, are pregnant, lactating, trying to conceive, or taking medications, consult your health care practitioner before using this product.
Legal Disclaimer
Statements regarding dietary supplements have not been evaluated by the FDA and are not intended to diagnose, treat, cure, or prevent any disease or health condition.
Always consult your health care provider before taking any supplements. Pregnant or lactating women, people with existing medical conditions, or people taking medications should consult their health care provider/s before taking any dietary supplement. If you experience any adverse condition after taking this dietary supplement, discontinue use immediately and consult your health care provider. Keep out of reach of children 

We would love to hear from you

Do you have a question? A complaint?

Are we doing something really well? Or could we be doing something better? 

Contact us below and someone will get right back to you.

 
Choose options