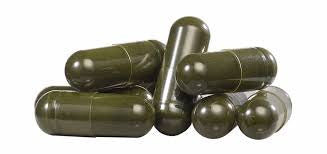 Chlorophyll Organic - 100 Capsules 500mg Each
Sale price
₦7,000.00
Regular price
(/)
---
CHLOROPHYLL: Green pigment naturally found in plants, green vegetables, and other plant-based foods
One Serving of our Organic Chlorophyll Has 45 Mg Organic Sodium Copper Chlorophyllin Which Equals 2 Mg Copper which Supports Antioxidant Pathways And Detoxification Processes Helping Neutralize Free Radicals
Our Organic Chlorophyll is a green Superfood Containing Chlorophyllin and a proprietary blend Made With Wholesome Ingredients: Gluten-free. No Yeast-derived Ingredients, Wheat, Corn, Or Dairy.
Chlorophyll helps the liver's ability to remove toxins acting like an internal deodorant. Chlorophyll also supports collagen synthesis which is needed for beautiful skin and hair
Chlorophyll supplements the essential vitamins and minerals your body needs to thrive and is considered a powerful antioxidant which helps prevent cell damage and aging.
Organic Chlorophyll provides you with 500mg of essential for your body antioxidants and vitamins from greens just per 1 serving. This natural superfood is the finest solution to increase your energy levels, support immunity, and cleanse your body from toxins! The simple way to switch to the Healthier Lifestyle!
Chlorophyll is proven to build a stronger immune system, so supplementing your body with it will elevate your overall health! It boosts immunity, increases defenses, protects the cell from free radicals, and what's more, it helps to neutralize and balance your body's pH levels! The greatest support your body deserves!
All-Natural Energy Source - Chlorophyll gives a nutritional boost and is a potent energy enhancer, which literally increases your natural body energy levels! One thing to mention, our chlorophyll capsules help to provide better metabolic functions, so combining this supplement with gym and healthy eating will change your body in no time!
Natural Deodorant - If you are having any kind of body odors or bad breath - just add our 

chlorophyll capsules into your daily routine! It eliminates unpleasing odors from the body and freshens your breath by cleansing and detoxifying the blood and breaking down most odor-causing compounds. Stay fresh in and out!
Made in the USA - We are proud to provide you with our all-natural health-boosting supplements, made by using only premium, Non-GMO ingredients. This is  produced in the USA according to the World Manufacturing Law and following Cruelty-Free guide. We test every new batch before sending you, so you can be sure of the quality and purity of products.
Our

chlorophyll supplement

promotes the greatest absorption and BioAvailability, to ensure you get the needed nutrients with only 2 capsules per day!
Chlorophyll Major Benefits:
✅Boosts the immune system
✅Encourages body defenses and responses
✅Promotes antioxidant protection
✅Provides the body with a gentle detox
✅Cleanses the body from toxins
✅Freshens breath and helps achieve clear skin
✅Eliminates body odors
This Product is:
✅Made in the USA
✅Vegan-friendly
✅Non-GMO and Gluten-Free
✅Has NO artificial additives
✅3D Party Lab Tested
✅Highly absorbing & effective
✅Easy to digest
Premium Quality
• Ingredients Imported 100% raw from the USA ✓
• Encapsulated in Nigeria ✓
• USDA Organic* ✓
• Non-GMO** ✓
• GMP Manufacturing ✓
All our products are 100% natural and processed in a FDA Registered Facility in the USA.
Statements regarding dietary supplements have not been evaluated by the FDA and are not intended to diagnose, treat, cure, or prevent any disease or health condition.
You should not use the information contained herein for
diagnosing or treating a health problem or disease, or for prescribing any medication. We recommend that you consult with a qualified healthcare practitioner before using any herbal products, particularly if you are pregnant, nursing, or on any medications.

We would love to hear from you

Do you have a question? A complaint?

Are we doing something really well? Or could we be doing something better? 

Contact us below and someone will get right back to you.

 
Chlorophyll Organic - 100 Capsules 500mg Each
Sale price
₦7,000.00
Regular price
Choose options