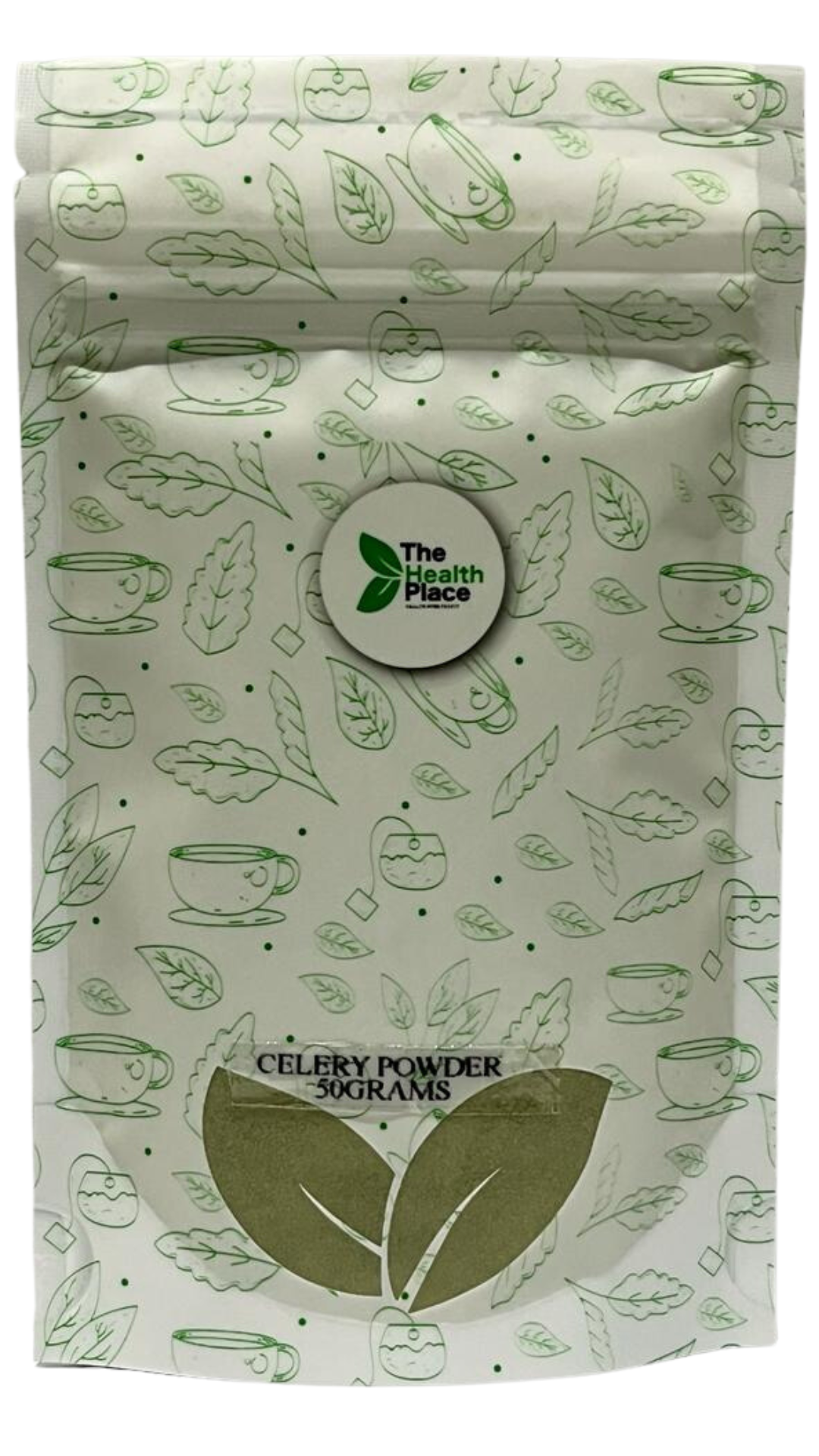 Celery Juice Freeze-Dried Powder -50 Grams
Sale price
₦3,500.00
Regular price
(/)
---
Botanical Name: Apium graveolens L
Origin: USA
Rich in Immune Vitamins (Vitamin C, Vitamin B Complex, Vitamin D, Vitamin E), Amino Acids, Minerals (Magnesium, Potassium, Calcium and Zinc Vitamin), Fibers and Antioxidant.
Unflavored. Freeze-Dried. Non-GMO. No Additives. No Preservatives. No Fillers, No Gluten, No Soy, Plant-based powder. No Tree Nuts and Gluten Free. 
Just 1 cup (240 mL) of celery juice provides:
Calories: 42.5
Protein: 2 grams
Carbs: 9.5 grams
Sugar: 5 grams
Calcium: 8% of the Daily Value (DV)
Magnesium: 7% of the DV
Phosphorus: 5% of the DV
Potassium: 14% of the DV
Sodium: 9% of the DV
Vitamin A: 7% of the DV
Vitamin C: 16% of the DV
Vitamin K: 74% of the DV
Ulcer and Digestive Relief
Pectin-based polysaccharides in celery, including a compound known as apiuman, have been shown to decrease instances of stomach ulcers, improve the lining of the stomach, and modulate stomach secretions as well as 
supporting digestion.
Manage PCOS symptoms
There is no cure for PCOS, but treatments can help to manage the symptoms. There is some evidence to suggest that celery juice may help to treat PCOS. One study found that celery juice improved insulin sensitivity in women with PCOS. Another study found that celery extract helped to reduce the levels of testosterone in women with PCOS.
A Powerhouse of Many Potent Antioxidants
Celery contains caffeic acid, ferulic acid, saponin, tannin, and kaempferol. Two of its other more notable components are apigenin and luteolin. These are all compounds found to have powerful antioxidant properties.
Meaning, they prevent oxidation in the body, which is behind the creation of free radicals. Free radicals aren't always harmful, but in great numbers, they can damage and kill human cells.
By drinking celery juice, you're delivering these antioxidants straight to your system. They'll reduce the effects of oxidation in your body, keeping your cells alive and healthy.
Anti-Inflammatory Effects
One study found that luteolin may hinder the production COX-2, an inflammatory enzyme.Another study reported that luteolin reduced inflammation in rats with asthma and rhinitis.
Researchers also say that celery can reduce the production of NO (nitric oxide) in the body. NO is an inflammatory mediator, so having more of it puts you at a higher risk of inflammatory responses.
Lower Cholesterol and Blood Pressure Levels
Celery's fiber content can also reduce LDL (bad) cholesterol levels. It seems to absorb extra cholesterol compounds in the gut and then release it through the feces.
In fact, a study found that celery extracts reduced cholesterol levels in rats by 7%. The researchers also noted a 14% reduction in the rats' blood pressure levels. A separate study on rats concluded that celery helped reduce LDL cholesterol levels.
In a human study, researchers investigated celery's antihypertensive effects. It involved patients with mild to moderate high blood pressure. Six weeks after, patients who consumed celery seed extract had lower blood pressure.
Keeps Other Oxidative Stress Disorders at Bay
The Ferulic acid found in celery also has oxidative stress-preventing effects. Experts say that it has the potential to prevent and even treat diabetes and heart diseases. This antioxidant also appears to be beneficial for Alzheimer's disease, cancer, and atherosclerosis.
Start Reaping these Benefits of Celery Juice Powder
There you have it, everything you need to know about celery juice powder and its power. Now that you know its potential benefits, you should consider including it in your diet. With its significant antioxidant content, you can reduce your risks for many diseases.
Feel free to browse our collection of other superfood freeze-dried powders.
How to use: Fill a regular sized cup (150-200ml) of water/juice ,Add 2 teaspoons of powder, shake well and drink within 15minutes. Best taken first thing in the morning on an empty stomach. PS: ULCER AND PCOS PATIENTS.
Premium Quality
• Ingredients Imported 100% raw from the USA ✓
• Carefully repackaged  in Nigeria ✓
• USDA Organic* ✓
• Non-GMO** ✓
• GMP Manufacturing ✓
All our products are 100% natural and processed in a FDA Registered Facility in the USA.
Statements regarding dietary supplements have not been evaluated by the FDA and are not intended to diagnose, treat, cure, or prevent any disease or health condition.
You should not use the information contained herein for
diagnosing or treating a health problem or disease, or for prescribing any medication. We recommend that you consult with a qualified healthcare practitioner before using any herbal products, particularly if you are pregnant, nursing, or on any medications.

We would love to hear from you

Do you have a question? A complaint?

Are we doing something really well? Or could we be doing something better? 

Contact us below and someone will get right back to you.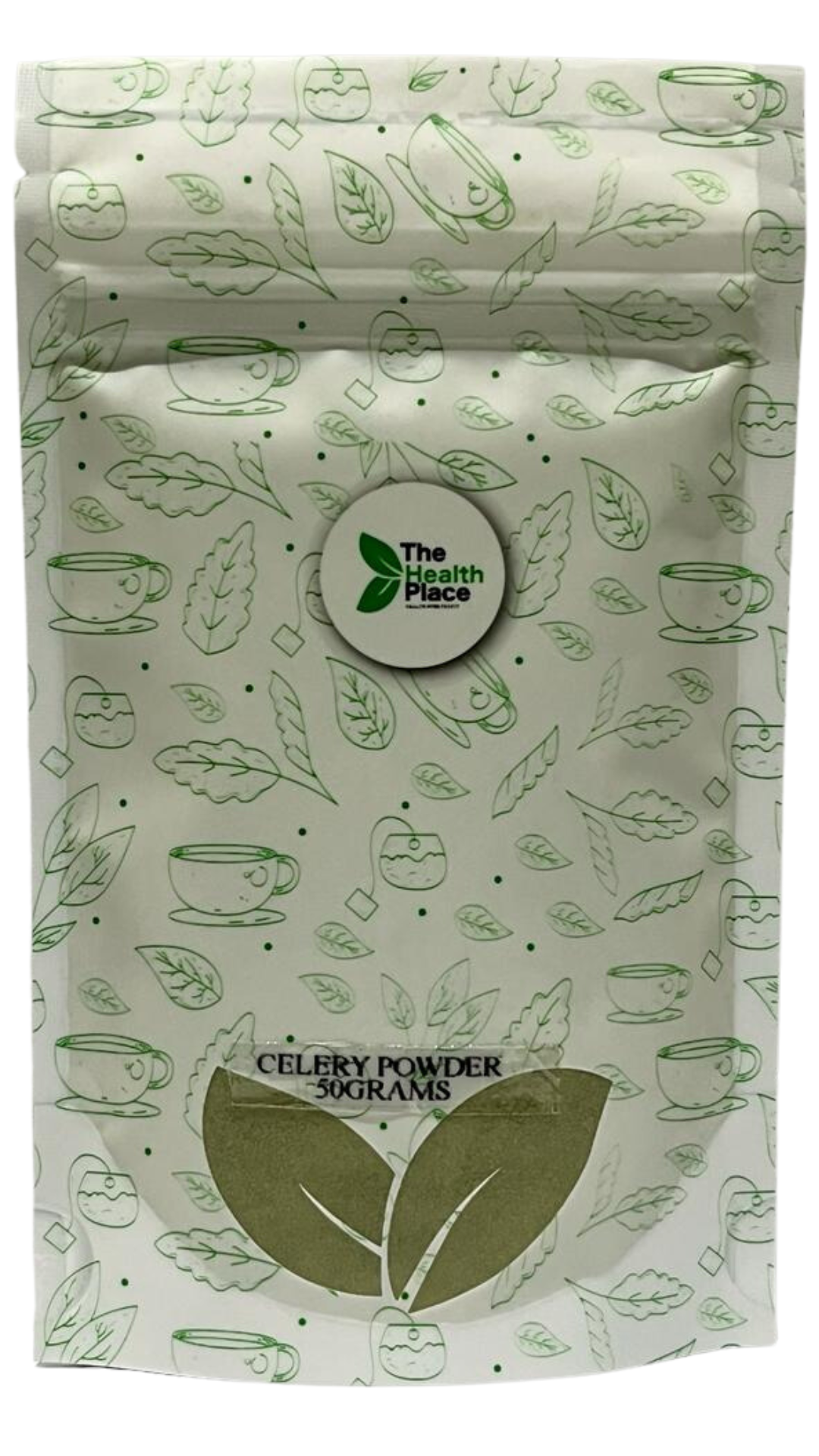 Celery Juice Freeze-Dried Powder -50 Grams
Sale price
₦3,500.00
Regular price
Choose options