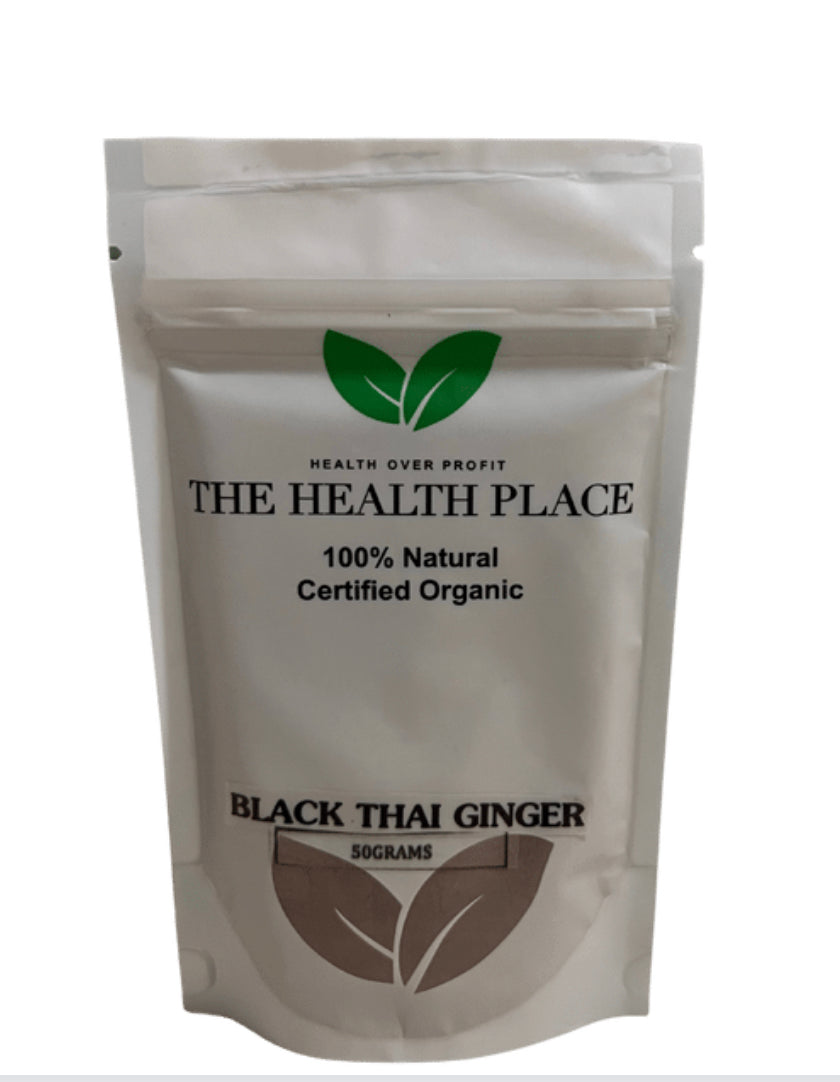 Black Thai Ginger Galanga- 50 Grams
Sale price
₦7,500.00
Regular price
(/)
---
Botanical Name: 
Kaempferia parviflora
Encapsulating is NOT FREE , It's costs N1050 extra per item. To encapsulate - please add this item and encapsulating to the cart and drop a note to have it encapsulated. 

Teabagging is NOT FREE, It costs N1050 extra per item .To teabag- please add this item and teabagging  to the cart and drop a note to have it teabagged
As the name implies, Black Thai Ginger is native to Thailand and is considered one of the five most economically important Thai Herbs.
Krachai in Thai language refers to  Kaempferia Galanga, so the real translation for this Thai root (Krachaidam) in English is Black Galanga and not Black Ginger unfortunately most people like to refer to it as Black Thai Ginger.
Krachai Dam Is an herbaceous plant belonging to the Zingiberaceae family (Ginger family). Krachai Dum is famous as a natural viagra as it contains substantial amounts of PDE5 inhibitors, which act like the Viagra, but without the negative side effects.  
Energy and Performance
This study concludes that  Black ginger increases physical fitness performance and muscular endurance by improving inflammation and energy metabolism.
According to traditional usage of Kaempferia Parviflora, half to one teaspoon of ground power is made into a tea and drank about 1-2 hours before physical performance.
Erectile Dysfunction
It is a famously used as a natural testosterone booster for erectile dysfunction treatment in males and it increases the libido in women as well.
Libido Enhancer for men and women
Black Thai Ginger stimulates sexual performance in both males and females, increases metabolism and promotes weight loss.
Memory and Cognitive Function
It is well known that intense and prolonged stress can produce hippocampal neuronal damage and cognitive impairments, few studies have investigated the possible ways Black Thai Ginger helps to prevent this deleterious effects. The neuroprotective effects of Black Thai Ginger on learning and memory loss keeps being studied.
Other Benefits
Black Thai Ginger has been shown to :
Have Anti-plasmodial, Anti-inflammatory and adaptogenic activity.

Anti-allergic and antioxidant activity. Anti-fungal and Anti-mycobacterial activity.

Stop psoriasis flares.

Prevent strokes.

Lower blood glucose levels and to improve blood flow.

Reduce triglycerides.

Reduce gastric ulcers.
Premium Quality
• Imported 100% raw from Thailand ✓
• Carefully Packed in Nigeria ✓
• USDA Organic* ✓
• Non-GMO** ✓
• GMP Manufacturing ✓
All our products are 100% natural and processed in a FDA Registered Facility in Thailand.
Statements regarding dietary supplements have not been evaluated by the FDA and are not intended to diagnose, treat, cure, or prevent any disease or health condition.

We would love to hear from you

Do you have a question? A complaint?

Are we doing something really well? Or could we be doing something better? 

Contact us below and someone will get right back to you.

 
Black Thai Ginger Galanga- 50 Grams
Sale price
₦7,500.00
Regular price
Choose options