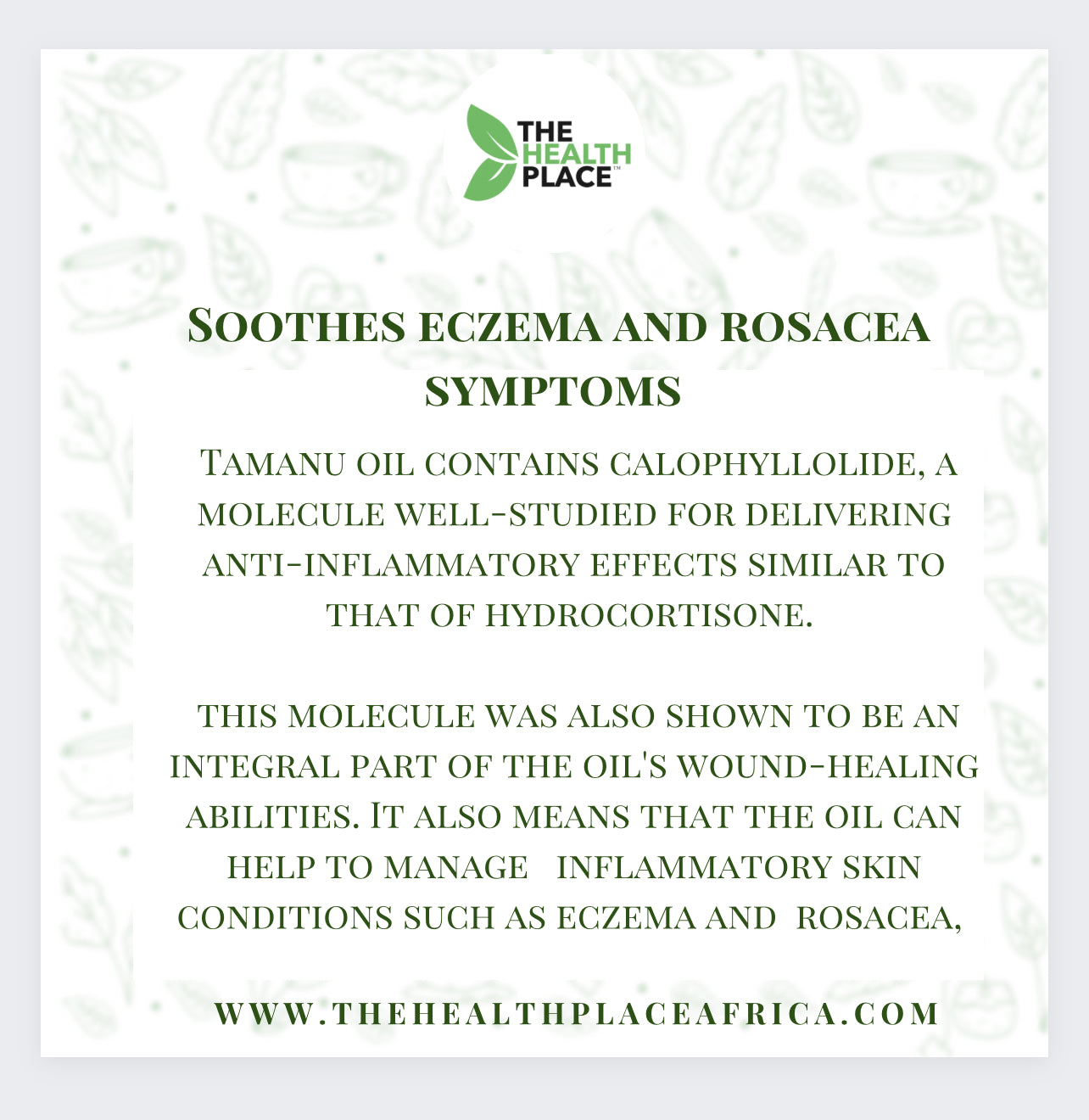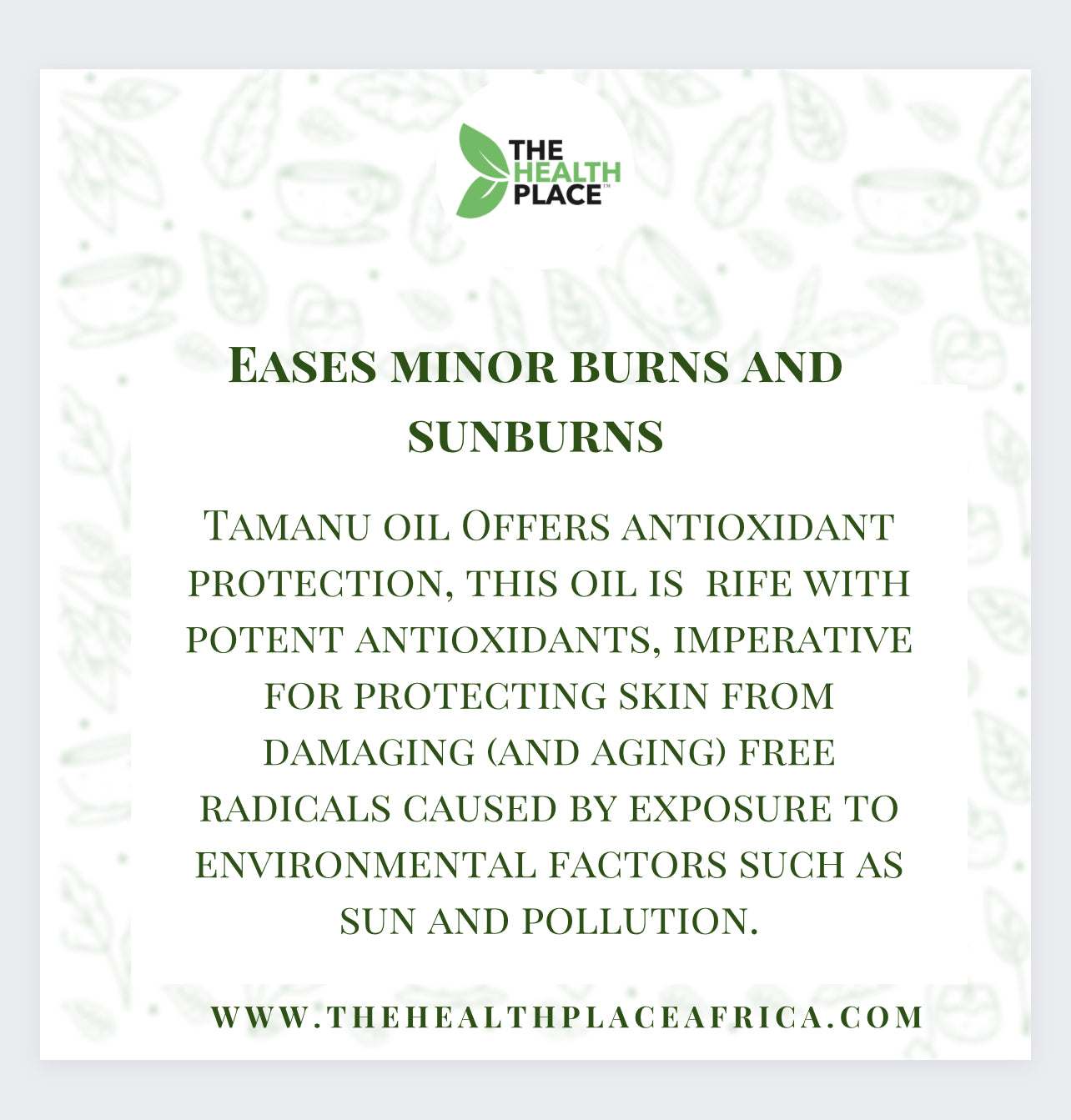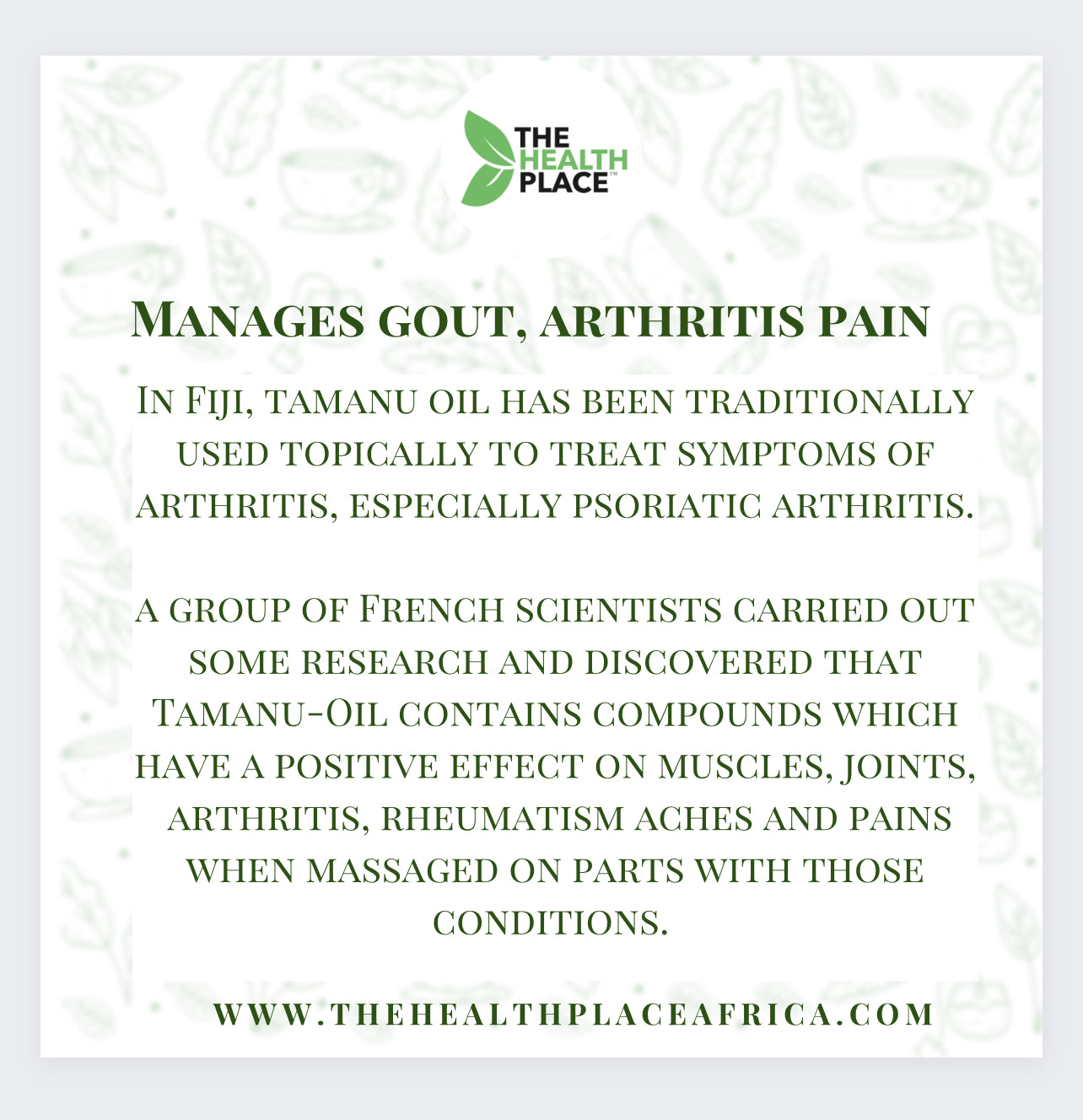 Tamanu Oil (50ml)- Pure Cold Pressed Natural Unrefined Carrier Oil
Sale price
₦4,800.00
Regular price
(/)
---
Country of Origin: Madagascar
Source of Oil: Tamanu Tree Fruit Seed
Form: Solid at Room Temperature; Melts at 76 degrees
Color: Dark Green to Brown
Natural: Yes
Purity: 100%
Additives: No
Extraction Method: Cold Pressed
Refinement Status: Unrefined
METHOD OF EXTRACTION
Cold Pressed and Unrefined
It takes 100 kilograms of tamanu fruit, the amount that one tree produces annually, to yield just 5 kilograms of cold pressed oil! Natives believed the tamanu tree was a sacred gift of nature and that gods hid in its branches.
• Tamanu Oil Organic is obtained by cold pressed extraction of Calophyllum Inophyllum fruits originated from Vietnam. It is 100% Pure & Natural, Hexane Free, Authentic, entirely alcohol and solvent free. 
• Tamanu Oil is a rich source of fatty acids, Vitamin E, Vitamin A, Omega 3, Omega 6 & Omega 9. That is why it is an ideal ingredient that is used in the formulation of skin care creams, lotions, beauty products, body massage, hair care shampoo & hair conditioners.
• MIRACLE OIL FOR SKIN: Cold pressed Tamanu oil is one of the best carrier oils for skin. It is extremely beneficial for nourishing the skin especially if you're looking for a healthy skin. It has fatty acids that help to give a revitalized and rejuvenated look. It is non-greasy oil which quickly absorbs into the skin and makes it suitable for all skin types.
Over the years, tamanu oil has been recommended for various skin issues such as eczema, acne, psoriasis, burns, skin cracks, and dermatoses. It has also been used for its pain-relieving properties in rheumatisms and sciatica and for its analgesic properties in wound healing.
• Tamanu Seed Oil: Organic Tamanu Oil is cold-pressed from the nut kernels of the Tamanu Tree and is known for its incredible beauty and skin benefits. Tamanu oil contains Calophyllicacid (a unique fatty acid), Lactone, and Calophyllolide that may help with skin issues naturally.
• Skin Rejuvenating Properties: Tamanu oil is a fast acting skin rejuvenating agent with its unique ability to penetrate all three layers of the skin which may help to accelerate healing. 
• Excellent age-defying agent for clearing oily skin, and reducing the appearance of acne, scars, age spots and other skin irritations
• Healthy Hair and Nails: The richness of fatty acid and multiple nutrients makes it an ideal for beautiful hair and nails. It nourishes, moisturizes and softens hair while making scalp healthier. When massaged on nails, it leaves shiny and healthy nails.
• Effective on Signs of Ageing: Tamanu oil works exotically on the skin and may help with signs of aging. With its moisturizing properties and ability to penetrate three distinct layers of skin, it may help in reducing fine lines and wrinkles.
Premium Quality
• Imported 100% raw from the USA ✓
• Carefully Packed in Nigeria ✓
• USDA Organic* ✓
• Non-GMO** ✓
• GMP Manufacturing ✓
All our products are 100% natural and processed in a FDA Registered Facility in the USA. 
Statements regarding dietary supplements have not been evaluated by the FDA and are not intended to diagnose, treat, cure, or prevent any disease or health condition.

We would love to hear from you

Do you have a question? A complaint?

Are we doing something really well? Or could we be doing something better? 

Contact us below and someone will get right back to you.

 
Tamanu Oil (50ml)- Pure Cold Pressed Natural Unrefined Carrier Oil
Sale price
₦4,800.00
Regular price
Choose options